Australian Dollar is set for ACD Method trading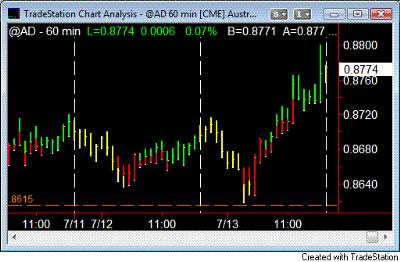 Last night, I posted a possible support level for the Australian Dollar at 0.8615 on my Support & Resistance Levels webpage.

Australian came down to 0.8619. That was the low of today. It stopped 4 ticks above where I identified a possible support level and reversed back up. It closed near the high of the day. A bullish sign.

This presents a good trade setup for ACD Method traders.

A long Bias is established. We also know where we are wrong. If price comes down to 0.8619 tomorrow, we are wrong.

The expectation for tomorrow is that Australian Dollar is going to make an A-Up on tomorrow's trading session and we know where our risk tolerance is at 0.8615.